1972 MG Midget
I purchased this car in 1998 and have steadily gone through all of the mechanicals on the car. I've also completely replaced the interior and the top (which you can't see in any of the pictures). Except for alignments and the machine shop work, I've done everything myself. Here's a couple of pictures of the results.
Interior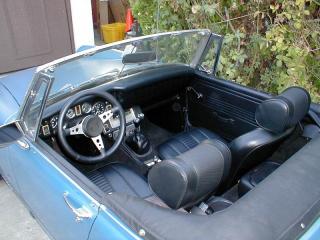 The color (which is a light metallic blue) is not the original color nor is it a factor color. It was painted by a previous owner who changed it from its original BRG (British Racing Green -- a dark nonmetallic green). The paint at this point isn't in great shape and I'll have it professionally repainted. I like this color so I don't plan on putting the car through another color change.


Current Specifications
Tires: Pirelli P4000 185/70-13
Wheels: Minilite 13x5.5
Suspension: Completely rebuilt with the following changes:
Front springs replaced with ones lowered 1.5"
Rear springs replaced
Front ball bearings replaced with tapered roller bearings
3/4" front sway bar added on solid aluminum mounts
all rubber suspension bushing replaced with polyurethane bushing
combination Pan hard rod and traction bar added to stabilize the position of the rear axle
all lever shocks replaced with rebuilt units
Engine: A-series rebuilt with the following changes:
Bored from 1275 cc to 1380 cc (0.120" overbore)
~9.5:1 compression
Longman GT-7 head (ported, polished, cc'd combustion chambers, bigger valves)
Kent 276 cam
1.5:1 Roller rockers
titanium push rods
lightened cam tappets
ARP fasteners throughout
dual 1-1/4" SU carburetors replaced with a single 1-3/4" SU
LCB header into a Maniflow exhaust system
The rest of the car (including the interior) is pretty much stock except for the following:
I replaced the steering wheel with an MGB silver anniversary leather wrapped steering wheel
The tachometer was replaced with a "Smiths" badged 8,000 RPM unit that looks stock (except for redline)
I put in a "short shift" kit that shorted the throws on the shifter considerably.
For those of you wondering, no I don't know how much horsepower the engine puts out. One of my goals was once I had the engine sorted out was to take it to a "rolling road" (dyno) and have it measured. Unfortunately while I was sorting things out I managed to get the mixture wrong and lost the seal on the piston rings. So it now has considerable blow-by and oil consumption is horrendous. So the engine will come out again and get a new set of piston rings.

Planned Changes
I'm planning on making a number of changes while I have the car apart to fix the engine problem. Here's a short list:
I wasn't happy that the stock ignition was up to what the new engine wanted, so I'm going to an Aldon yellow distributor with a Crane XBR-3000 electronic ignition kit.

I rebuilt all of the hydraulics but they're all 30 years old now so I will be replacing the brake master cylinder along with the clutch master and slave cylinders. I'll also be replacing all of the rubber hydraulic hoses with braided stainless ones.

Since I put lowered springs up front, the rear end sits a little high, so I'll replace the rear springs with a set that have been lowered (no I will not stoop to lowering blocks).

I'd like to see if I can't find a set of 14" Minilites with the right bolt pattern and offset and go to Yokohama A032R 185/60-14 for tires.
Driving Experiences
I have to say that with the suspension changes and the engine (while it was working), it was such a blast to drive. It was very much quicker than a stock Midget. One day when it was running particularly well, I wanted to see where it would run out of steam RPM wise. Up to that point I hadn't rev'd it much past 5500RPM. On that day I let it go. I chickened out at about 7200 RPM and it was still pulling strong!

I was originally concerned about the cam selection. I was afraid that there'd be too much cam. That cam worked beautifully. There was a reasonable amount of power from about 1200 RPM on up. It really started going at about 1800 RPM and would launch from there.

It also corners very well. The biggest problem I've had was with the front sway bar. Since it sits so low and because it is solidly mounted, if it hits (ie the ground) there will be damage. I've had to have the frame mountings rewelded twice. Once was hitting a parking bumper, the other was turning into a parking lot off of a high crowned road. Now that I've done it twice, I know what will cause problems and I avoid them.