1970 Austin Mini Cooper
I've wanted a Mini for a while and just couldn't find one that I liked for the price I was willing to pay for it. Back in 1999 someone offered me a 1968 MK3 (ok it *really* wan't a '68 but it was a MK3 and the title said 1968 -- so who am I to argue?) for the price of towing it away. It was definitely a project car. It had rust in all the usual spots on a mini and the floors were more at home in a Flintstone's movie. I had asperations of restoring the car back to its former glory.
However, just like all intentions of this sort I could never quite get started on the project. So it sat in my driveway for 3 years. Every once in a while I'd move it around in the driveway just so the neighbors wouldn't figure that it was a complete derilict. Finally I gave up. I figured that if I hadn't started work on the project in 3 years, I wouldn't in the next 3. So I started looking for Minis that were in better shape than what I had.
I spent a lot of time perusing the classified on Minimania's web site. Mostly I was looking at what private sellers had to offer since they would be a better "deal". Nothing really showed up. They seemed to be scarce. Then I found Michael Lewis' "The Mini Guy" web site. It showed promise. There were 3 cars on his site that I was really interested in. He was down by LA so dropping by wasn't an option, so I called. It turned out that the first two of my choices had already been sold. Someone was interested in my third choice. Michael's a business man and when the other guy didn't get him back after a few days, Michael put me at the top of the list.
Michael has an "interesting" selling style. He tells you everything that's wrong with the car. It seems like he tries to talk people out of buying his cars. I wasn't turned off by his descriptions so, we made arrangements for me to drive down to So. Cal. (in a horrible rental car) so that I could look at the car and take it for a test drive. Because of the distance, I decided to drive down the day before and stay in a hotel so that I'd have a reasonable amount of time to look over the car before having to drive back.
When I got down there, I met Michael (a really nice guy, by the way) at his dealership (which has since moved to Ventura). There were about a dozen Minis of all sorts parked there. I saw the car that Michael had described to me (and I'd seen pictures of on his web site). If anything it was better than he had described. A quick test drive and I was sold. We struck a deal, I got the keys and I was on my drive home.
I have to say that it was the most fun I've had on a long drive in a while. First you get the stares that it's a Mini (it's so small). Then you get the double take because it's right hand drive (yes, I drive on the wrong...err...right side). Here are a couple of pictures of my Mini.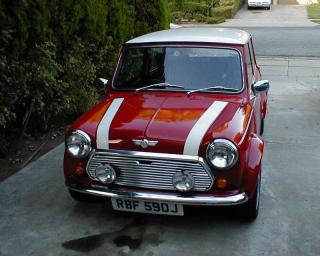 Most of the work that I've done to it has been on the interior. The interior that is shown is how it is now, not how I bought it. I've replaced the dash and put in white faced gauges. The carpet has been replaced and the seats have been replaced. While the seats that were in the car were fine, given that in a Mini you don't have to slow down for corners, I was sliding around a lot, so the new seats were a requirement.
I've also joined the MOASF and been on a number of their "outings". Here are a few shots (taken by others) of my car on those trips (we've been all over the Bay Area).
These were on the trip up to Nevada City for the MiniMania swap meet.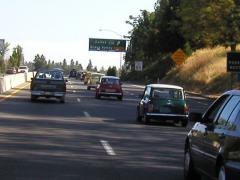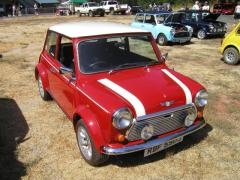 The next picture is not one of my car, but it was taken on the trip to MiniMania and gives you an idea why Minis attract attention.
These pictures were taken on the trip up (and down Mt. Hamilton).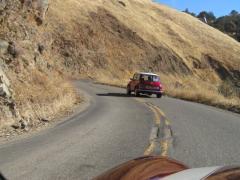 And these were taken when we made a trip up to MiniMotors in Santa Rosa.