PDP-8/e
In addition to wanting a PDP-11 since I left school, I've wanted a PDP-8 since before I was in school. However until recently I was unable to come up with one. I had tried to get an 8/m on e-bay but was continually out-bid (gee does this sound familiar?). Out of the blue someone e-mailed me indicating that they had multiple PDP-8s with lots of other PDP-8 related stuff and wanted to know if I was interested in any of it (is the sky blue?).

It turns out that the company he works for had been using PDP-8s in production until a few months before he contacted me. They were going to scrap them until he convinced them that there was collector value in these machines. He was responsible for the maintanence of them so was very familiar with them and could assure me that they were working. After a few e-mails and a phone call I got a list of the PDP-8s they were getting rid of and that anything I didn't take would go on e-bay.

We finally agreed on a price (alot). The big sticking factor was being able to pick up the equipment. That was worked out and I made an 8.5 hour drive (each way) to pick up the 8. When I got there, they were ready and powered everything up so that I knew it all worked. So I knew that if it didn't work when I got home it was either the trip or something I did.

Here's the short list of what I picked up:

PDP-8/e

16K core
M837 Memory extension and time share
M8350 Positive bus interface
M868 Dectape control
M880 256 word ROM
M848 Power/fail restart

TU-56 Dectape + 10 dectapes
3 RK05 drives + 3 RK08e controllers
4+ boxes of Omnibus cards in various states (good, untested, bad). It's about 100 cards!
Here's the system: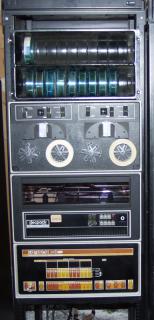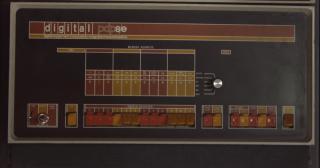 Here are a couple of shots of the backplane: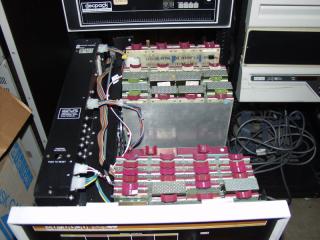 I didn't put the RK8e controller in yet because I wanted to get the basic system up and running (to make sure it survived the trip ok). After "racking" the system up and providing power to everything in the rack, I powered it up and loaded a Dectape into one of the drives. It was sooo cool to watch it boot OS/8 from Dectape! A "dir" was really impressive with the tape spinning back and forth (and of course the lights blink!).