PDP-8/i
I got an e-mail from someone indicating that they had a PDP-8/i that they'd like to get rid of. An 8i is pretty cool because of all of the flip-chip modules that are in it. So I decided to take the plunge and grab another 8 for the collection.
I just picked it up and haven't done anything with it yet (other than take some pictures).
Here's the backplane with gobs of flip-chip modules.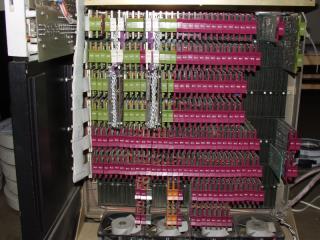 I spent some time going through the modules that are in the backplane and comparing them with what the various internal options are on an 8/I, here is a list of the options that are currently installed:

KA8I Positive I/O (it expands via the "posibus" vs the the older "negibus").
KW8IE Real Time clock (variable clock rate)

MC8I 8KW of internal memory
VC8I Ocilloscope Display
ASR33 Teletype interface
KE8I Extended Arithmetic Element

At some point I'd think I'd like to add the following internal options (since "all" it will take is locating the appropriate flip chip modules and cables):

KP8I Power Fail
KT8I Timeshare
PP8I High speed paper tape punch
PR8I High speed paper tape reader